Planning For A Home Theater For Your Fox River Grove Home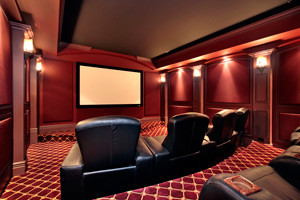 One of the most exciting options Fox River Grove homeowners have now is adding their very own home theater. Aside from the countless hours of entertainment you and your family will enjoy, there is the fact that this also adds significant value to the property value of your home. So if you are at all considering this for your home, there are some other things that you should know in order to make the right decision.
Fun Home Improvements
For starters, the first thing you have to do is work with a professional in order to determine what space in your home you can dedicate to the cause. Finish your basement, transition your attic or even consider having an addition built, but first deal with the inspection work that has to be completed in order to make sure that you have space that can be used or built for a home theater. Most of the construction can be done too with planning in mind to have wiring installed behind walls and speakers installed that don't stick out and become the focal point of the room.
In some cases, if the room is already finished one, you may not be able to go wireless when it comes to your surround sound or other aspects of your home theater design. Another aspect of this to think about is whether you want to designate this room as a home theater or use it as a media room. What's the difference you may wonder? Well, a home theater is designed just for entertainment such as watching sports, movies, TV shows or even playing video games while a media room also includes space to act as the living room, as well.
You will love being able to maximize your enjoyment of what you once did on a smaller screen, standard television while appreciating the ability to enjoy blockbuster films in the comfort of your own home. All you have to do is find the right team of experts to work with in order to customize your project to your liking and get great deals on the equipment you want and need. That is where the pros at North Suburban Electric come into the picture.
Make the Most of Your Project
When you rely on the team here at North Suburban Electric to take care of your Fox River Grove home theater system, you can rest assured you will love the final results. We will find out what it is you hope to achieve and go above and beyond. All you have to do is give us a call and let us get started on your dream project.
If you are looking for a Fox River Grove electrician then please call (847) 564-4130 for Northbrook or (847) 697-4130 for Elgin or complete our online request form.