Chicagoland Computer & Telephone Cabling Services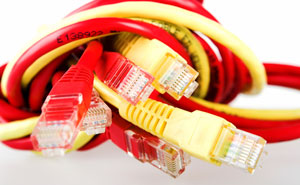 Having trouble with just one telephone line? Need more extension lines? How about network cabling for the new computer? Thinking about how nice it would be to have a television in the bedroom but don't have a cable hookup in there? Our Northbrook & Elgin computer and phone cabling electricians can help you with all of your voice and data cabling needs.
Problems With Your Phone Line?
Do you have an existing phone outlet location with a mass of tangled wires inside? Which ones work? The wires should be color coded. If you have only one phone line in the house, it should be easy.

Go to the phone line termination board. This is where your inside phone cables meet up with the outside phone line. Look to see which color wires hook up with the phone wire that comes in from the street. This is your first clue. If the same color wires are back at the outlet you are trying to activate, connect them up.

Hopefully you will get a dial tone. If not, go to all the other phone outlets in the house to see if these wires have been connected to the wires in those outlets that you know in fact work. This is often the problem - the wires you need to work are simply disconnected at another phone outlet.

If you continue to have problems, please do not hesitate to call us. Our service technicians are dedicated in providing you the best service in Lake and Cook Counties, and we specialize in telephone wiring in the residential homes.
Our Chicagoland Computer & Telephone Cabling Provides These Detailed Services
Computer and Telephone Cabling
Cabling
Telephone Cabling
Structured Cabling System
Computer Cabling
Data Cabling
Voice and Data Cabling
Computer Phone System
Network cabling
Network wiring
Voice Data Cabling
Telephone Cable Installation
Data Cabling Company
Computer Phone Systems

We provide Computer & Telephone Cabling In The Following Areas:
Cook County - Barrington, IL | Buffalo Grove, IL | Northbrook, IL | Glenview, IL | Skokie, IL | Glencoe, IL | Schaumburg, IL | Hoffman Estates, IL | Streamwood, IL
Kane County - Batavia, IL | Elburn, IL | Geneva, IL | South Elgin, IL | St. Charles, IL | West Dundee, IL | Elgin, IL
Lake County - Barrington, IL | Buffalo Grove, IL
Du Page County - St. Charles, IL
Why Chicagoland Should Hire Us For Computer & Telephone Cabling
Many computer and phone cables still charge by the hour which at first may seem less expensive. The problem of course is you really don't know what the final price will be and then you get that big surprise at the end of the job. Also, some electricians are fast and some are slow. Why should you be penalized for a slow electrician!
All of our phone and computer cabling electricians want to do the very best work. Sometimes they want to take a little more time to make sure the job is done right. By using "up-front" pricing this is no longer a problem because the price doesn't change regardless of time. You get better quality work with price certainty. In addition, our pricing is structured so that when you have more than one repair done while we're in your home; the additional repairs are offered at a reduced price. So, for the best value and maximum savings it is always wise to try to group your repairs together.
What Chicagoland Homeowners Are Saying About Us
"Customer thought Matt did a great job and spent a lot of time explaining his options."

- Bernard B. Arlington Heights, IL | Rated: 3 / 3 - [Read More]
"Customer happy with service and requests same electrician next time."

- Chris G. Park Ridge, IL | Rated: 3 / 3 - [Read More]
Recent Articles About Chicagoland Computer & Telephone Cabling
If you are looking for a Chicagoland Computer and Telephone Cabling Contractor then please call (847) 564-4130 for Northbrook or (847) 697-4130 for Elgin or complete our online request form.