Home Theater & Media Room Wiring In Chicagoland

Looking for home theater information? We've got it! With the right planning, the investment in a home theater can bring pleasure for today's lifestyle. Northbrook & Elgin home theaters are great for relaxing, entertaining, and bringing the whole family together.
Media Room or Home Theater?
The first step is to plan your space. Will you have a dedicated home theater room or will your system be in a multi-purpose media room? Either way can be fantastic.
A dedicated home theater is designed specifically for entertainment: enjoying movies, sports, TV, and video gaming. Basements, attics, bonus rooms, or spare rooms are great as dedicated home theater spaces.
A media room serves a similar purpose to a dedicated home theater but is but is usually also a living space, such as a family room.
Our Chicagoland Home Theaters Provides These Detailed Services
Home Theaters
Home Theater Design
Home Theater System
Best Home Theater System
Home Theater Wiring
Wireless Home Theater
Samsung Home Theater
Home Theater Setup
Home Theater Systems
Media Room Wiring
Home Theater Installation
Wireless Home Theater System
Home Theater Sound Systems
Custom Home Theaters
Home Theater Design Ideas

Why Chicagoland Should Hire Us For Their Home Theaters
There are several benefits of hiring a professional theater installer and here are some of them: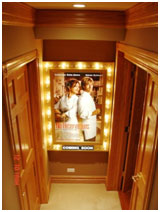 Save Money on Home Theater Equipment: You are probably wondering how you can save money especially when an installer is going to charge you for the installation. You will save in the form of unnecessary expenses.
Avoid Difficult & Dangerous Self-Installation: If you try and do the installation yourself then there is a high probability that something might go wrong after all this is electronic equipment. If something does go wrong then you will have to shell out extra money for repair or replacement and this is will be an unnecessary expense. But on the other hand, if you hire a professional home theater installer then your installation will be perfect and there will be no problems in the future. Above all, most installers offer free visits and check-ups on the installation for 1-2 years.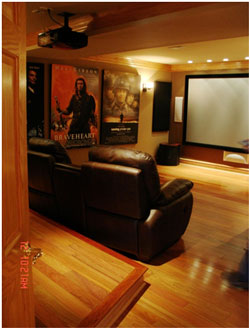 Benefit From Customization: This is one of the greatest benefits of hiring a professional home theater installer. If you want a custom installation then a professional can take care of that with ease. If you further require a multiple-room installation then that can also be taken care of. When you use services of a professional home theater installer then you can oversee the entire arrangement and even make small changes. A professional installer will assist you in drawing up a plan based on the amount of space available and will guide you on the best location for the video component and the audio equipments. This will ensure that you experience a smooth home-theater installation process and it is in accordance to your requirements.
Audio and Video System: Audio and video is the most integral part of a home theater system. Depending on your requirement, you can choose from different types of video equipments including Plasma TV, HDTv, standard television, LCD Tv, projector screen, DVD console etc. Similarly for audio, you can choose from single to dual amplifiers, multiple standard speakers or surround sound speakers, magnet speakers, multi-channel audio output systems, and much more. But installing different types of video equipment with their audio counterparts can be quite a tricky job and this can be easily taken care of by a professional home theater installer.
We provide Home Theaters In The Following Areas:
Cook County - Barrington, IL | Buffalo Grove, IL | Northbrook, IL | Glenview, IL | Skokie, IL | Glencoe, IL | Schaumburg, IL | Hoffman Estates, IL | Streamwood, IL
Kane County - Batavia, IL | Elburn, IL | Geneva, IL | South Elgin, IL | St. Charles, IL | West Dundee, IL | Elgin, IL
Lake County - Barrington, IL | Buffalo Grove, IL
Du Page County - St. Charles, IL
What Chicagoland Homeowners Are Saying About Us
"Customer would call us back again because they found the service to be outstanding and professional."

- Willy S. Northbrook, IL | Rated: 3 / 3 - [Read More]
"Customer thought Matt did a great job and spent a lot of time explaining his options."

- Bernard B. Arlington Heights, IL | Rated: 3 / 3 - [Read More]
Recent Articles About Chicagoland Home Theaters
If you are looking for a Chicagoland electrician then please call (847) 564-4130 for Northbrook or (847) 697-4130 for Elgin or complete our online request form.