Chicagoland Landscape Lighting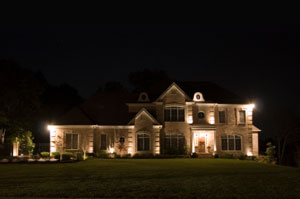 Northbrook & Elgin landscape lighting is intended to reveal what the night hides and should enhance the property, extend the hours of enjoyment and provide security and safety for property owners and guests. In addition to the obvious benefit of being able to enjoy your yard in the evening, as well as the day, lighting up your home makes the property more visible and, thus, safer. By lighting walkways and steps, you eliminate the need for flashlights and reduce the potential for slips and falls. Furthermore, landscape lighting deters intruders by giving them less "shadows" in which to hide. A well lit house is the most effective deterrent to intruders but floodlights create pools of light coupled with pockets of darkness, often close to windows, which provide privacy for an intruder to enter your home. By strategically placing landscaping lights to provide even illumination, you eliminate protective cover for any would-be intruder and increase safety and security for your property and family.
Chicagoland landscape lighting also enhances the aesthetic qualities of your property, which is especially beneficial for those wishing to sell their home. Creative lighting can produce dramatic effects that show off the beauty of your home and accentuate the landscape. Properties with a well designed lighting scheme give the impression of a luxurious estate, which often results in an increased resale value. Potential home buyers often drive by a house at night to determine if it might be a property worth checking out. Ornamental lighting attracts these buyers to your home giving them a great first impression. Those that find the outside of your home to be pleasant will believe the inside must be nice as well. The result is more prospective buyers and an increased perception of the value of your property.
Our Chicagoland Landscape Lighting Provides These Detailed Services
Landscape Lighting
LED Landscape Lighting
Landscape Lighting Ideas
Chicagoland Landscape Lighting
Walkway Lighting
Sidewalk Lighting
Landscape Lighting Transformer
Landscape Lighting Tips
Landscape Lighting Installation
Solar Landscape Lighting
Professional Landscape Lighting
Wholesale Landscape Lighting
Residential Lanscape Lighting
Landscape Lighting Design

We Provide Landscape Lighting In The Following Areas:
Cook County - Barrington, IL | Buffalo Grove, IL | Northbrook, IL | Glenview, IL | Skokie, IL | Glencoe, IL | Schaumburg, IL | Hoffman Estates, IL | Streamwood, IL
Kane County - Batavia, IL | Elburn, IL | Geneva, IL | South Elgin, IL | St. Charles, IL | West Dundee, IL | Elgin, IL
Lake County - Barrington, IL | Buffalo Grove, IL
Du Page County - St. Charles, IL
Why Chicagoland Should Hire Us For Their Landscape Lighting
Having a couple of landscape lighting additions installed in your home will have a great effect on the aesthetic appeal of your house, especially during night time. You would be surprised at how your home will look simply by adding a couple of lighting fixtures in your yard.
Our certified and trained landscape lighting technicians will help you ensure that your outdoor lighting does the job it is intended to do without causing reduced visibility for passing motorists, light trespass (spilling of light into areas where it is not wanted or intended) and energy waste.
We'll also help preserve the stunning view of the night sky. Landscape lighting installed for walkways and driveways should be directed downward.
What Chicagoland Homeowners Are Saying About Us
"Happy with your service and thought overall the company was very professional."

- Marilyn K. Buffalo Grove, IL | Rated: 3 / 3 - [Read More]
"Your company is always on time and provides excellent service. That's why I only call you people."

- Jay N. Mount Prospect, IL | Rated: 3 / 3 - [Read More]
Recent Articles About Chicagoland Landscape Lighting
If you are looking for a Chicagoland Landscape Lighting Electrician then please call (847) 564-4130 for Northbrook or (847) 697-4130 for Elgin or complete our online request form.