Chicagoland Surge Protection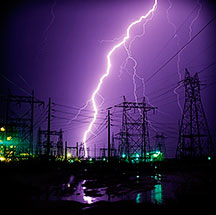 Very few homes offer Northbrook & Elgin surge protection, even considering that all homes have some sort of electrical equipment inside. Whole house surge protectors can provide one of the cheapest forms of insurance protection that a Chicagoland homeowner will ever purchase. An upfront cost for the system and installation can seem extreme, but there is no comparison when you place that up against replacement costs.
Only should those Chicagoland whole house surge protectors by installed by a qualified professional, because of the close installation to your electrical panel box. Whichever brand or product that you finally choose, check with the manufacturer to make sure you are protected from power line surges. The normal surge that has been seen from both telephone lines and cable connections should have protection as well.
While it is virtually impossible to keep every surge from entering into your home, those surges hit with an extremely large voltage can slip past, as well as the internal surges that are caused by your own appliances, so for extra protection place surge strips on your electronics. That will give you the knowledge that you are as protected as possible.
Our Chicagoland Surge Protection Provides These Detailed Services
Surge Protection
Electrical Surge Protection
Whole House Surge Protection
Surge Protection Outlet
Surge Protection Devices
Home Surge Protection
Residential Surge Protection
Lightning and Surge Protection
Surge Protector
House Surge Protection
Phone Surge Protection
Computer Protection
Surge Protection Installation

We provide Surge Protection In The Following Areas:
Cook County - Barrington, IL | Buffalo Grove, IL | Northbrook, IL | Glenview, IL | Skokie, IL | Glencoe, IL | Schaumburg, IL | Hoffman Estates, IL | Streamwood, IL
Kane County - Batavia, IL | Elburn, IL | Geneva, IL | South Elgin, IL | St. Charles, IL | West Dundee, IL | Elgin, IL
Lake County - Barrington, IL | Buffalo Grove, IL
Du Page County - St. Charles, IL
Why Chicagoland Should Hire Us For Their Surge Protection
Having Chicagoland whole house surge protection is important if you want to prevent electric damage that can occur and damage your computer, the other electronics that are connected and the safety of your home. You can find a whole house surge protector that is equipped to handle all of the electronics that you need to use, and can help keep your home safe. You can also find a surge suppressor that can help protect your computer and other computer components that you may be using around the computer. Computers and other electronics need to be protected by a surge-protector and it can help to keep them safe and avoid any damage. You can easily keep your electronics and home safe with the use of surge protectors that you can find at the web site.
When you want to do more to protect your computer and help to keep your whole house safe, you can go online to the web site and learn what kind of APC surge protectors you should buy for your home. It is an affordable way to protect your electronics and computer from damage and help to keep your home safe. You can find all of the equipment and supplies to provide your Chicagoland home with surge protection when you go the web site. You can also find a lot of information on the different kinds of surge-protectors that are available and which ones you should be using for your computer and home.
What Chicagoland Homeowners Are Saying About Us
"Customer happy with service and requests same electrician next time."

- Chris G. Park Ridge, IL | Rated: 3 / 3 - [Read More]
"Customer was happy to find that the same electrician who rewired her house seven years ago was still with the company. North Suburban Electric, Inc. is the only company she would use."

- Charles P. Glenview, IL | Rated: 3 / 3 - [Read More]
Recent Articles About Chicagoland Surge Protection
If you are looking for a Chicagoland electrician for Whole House Surge Protection, then please call (847) 564-4130 for Northbrook or (847) 697-4130 for Elgin or complete our online request form.