Your Professional Hoffman Estates Electricians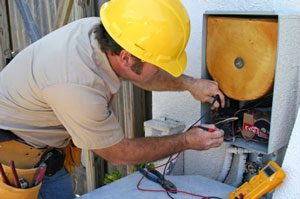 If you are in need of a Hoffman Estate electrician you can count on for great service, North Suburban Electric is here to provide you with excellence.
Having a home with bad wiring, loose connections, or an outdated panel box can cause problems like shock or fire. A qualified electrician can help you make repair or update the electrical system.
North Suburban Electric is a full-service company, offering you new installation, rewiring, upgrades, and more. We can install ceiling fans, landscape lighting, or new home theaters.
Professional, Ethical Service
Upfront Quotes
Quality Products & Workmanship
Proper Diagnosis & Repair
Drug Tested & Background Checked Electricians
Licensed & Insured Contractors
Clean, Uniformed Electricians
Boot Covers & ID Badges
On-Time Arrival
Trucks Stocked With Parts
State-of-the Art Tools
24/7 Hoffman Estates Electrical Repairs
If you have an electrical issue going on in your Hoffman Estates home, give our electricians a call as soon as you can. We'll troubleshoot the problem and let you know what the cause is.
We are available for Hoffman emergency electrical repairs 24/7. You'll have the type of service that's reliable and courteous.
There are some signs that will tell you it's time for repairs. If you have any of the following or any concerns at all, just give us a call.
Lights That Flicker
Frequent Bulb Burnouts
Smoke or Sparks From Outlets
Surges
Frequent Breaker Trips
Power Draining
Loose Wires or Connections
Burn Spots on Walls or Outlets
Blocked Outlets
Custom Home Theaters For Hoffman Estates
Setting up a custom home theater can be a daunting job. The good news is you will enjoy it for years to come. With a little help from an experienced electrician, the whole process will go smoothly and quickly.
If you have a Hoffman Estates home that is ready for custom home theater installation, let our experts at North Suburban Electric assist you. We'll make quick work of the process and ensure everything is set up just as it should be in little time.
Large Screen HDTVs
Screens & Displays
Surround Sound Speaker Systems
Theater Screens & Projectors
Television and/or Computer Integration
Whole Home Audio Systems
Amplifiers and Media Servers
Wiring\Cabling
Gaming Systems
Recent Articles
For a reliable Hoffman Estates electrician, please call (847) 564-4130 for Northbrook or (847) 697-4130 for Elgin or complete our online request form.