Your Professional Schaumburg Electricians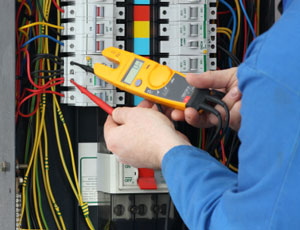 When it comes to great customer service, your professional Schaumburg electricians should always be skilled and experienced to know what you need and to listen to your concerns.
As full service electricians, North Suburban Electric have the expertise to offer you the best workmanship and first rate customer service.
We know you need a Schaumburg electrician you can count on. This is why we strive to provide you with the type of service we are proud of. With us, you'll have:
Professional, Ethical Service
Upfront Quotes
Quality Products & Workmanship
Proper Diagnosis & Repair
Drug Tested & Background Checked Electricians
Licensed & Insured Contractors
Clean, Uniformed Electricians
Boot Covers & ID Badges
On-Time Arrival
Trucks Stocked With Parts
State-of-the Art Tools
24/7 Schaumburg Electrical Repairs
Electrical problems occur with little notice, but sometimes they do go unnoticed until something major happens. Do you have an older electrical system that needs to be assessed for safety? A safety inspection could be what you need to ensure you have the power for the demand of your home.
Are your lights flickering? Do you have an outlet that refuses to work or keeps you from plugging things in? Do appliances that worked yesterday fail to turn on today? Electrical issues are bound to happen and sometimes without prior warning.
If you notice any of the following problems, you'll need electrical repairs.
Lights That Flicker
Frequent Bulb Burnouts
Smoke or Sparks From Outlets
Surges
Frequent Breaker Trips
Power Draining
Loose Wires or Connections
Burn Spots on Walls or Outlets
Blocked Outlets
Schaumburg Panel Upgrades
Schaumburg panel upgrades need to be done about every ten years. The electrical panel box is where your breakers are located and where all the wiring runs from the utility provider to the distributed circuits in your home.
Without enough power, the electrical system won't be able to bear the load demand. The reason these panel boxes get outdated is due to better technologies and the ever changing need for power we seem to have. Homes built a decade ago can struggle to provide you with enough electricity according to today's demands.
If your home hasn't had a panel upgrade in some time, give us a call and we'll check it out for you.
Recent Articles
For a reliable Schaumburg electrician please call (847) 564-4130 for Northbrook or (847) 697-4130 for Elgin or complete our online request form.