Your Professional Streamwood Electricians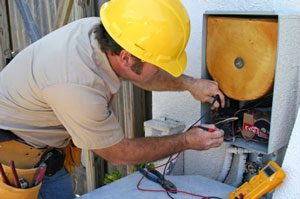 Having a good electrician to help with repairs, new installation, rewiring, or upgrades is something everyone deserves. If you are looking for a Streamwood Electrician that does reliable work and is available for 24/7 emergency repairs, call North Suburban Electric
Do you have an older home that needs new wiring or a panel box upgrade? There are safety building codes in place to ensure your electrical system is safe. Older homes may need to have the wiring replaced and all homes should have a panel upgrade every ten years or so.
As new technologies arise and things change with the demand for power in our homes, safety codes change to incorporate the additional load requirement.
Whether you need new construction electrical installation, repairs, or anything else, you can count on our Streamwood Electricians to offer you excellence.
Professional, Ethical Service
Upfront Quotes
Quality Products & Workmanship
Proper Diagnosis & Repair
Drug Tested & Background Checked Electricians
Licensed & Insured Contractors
Clean, Uniformed Electricians
Boot Covers & ID Badges
On-Time Arrival
Trucks Stocked With Parts
State-of-the Art Tools
24/7 Streamwood Electrical Repairs
North Suburban Electric is here for 24/7 electrical repairs in your area. Seeing the signs below means you need repairs. Call us soon to troubleshoot problems and ensure the repairs are made correctly. We'll arrive on time and show up with a service truck stocked full of parts.
Lights That Flicker
Frequent Bulb Burnouts
Smoke or Sparks From Outlets
Surges
Frequent Breaker Trips
Power Draining
Loose Wires or Connections
Burn Spots on Walls or Outlets
Blocked Outlets
Streamwood Panel Upgrades
Upgrading the electrical panel offers you a safe power system you can count on. The panel box houses the breakers and wiring that leads from the utility company. It routes the wires throughout your home.
When it's not upgraded, the breakers and wiring may not work properly. Surges and sparks can result.
If your Hoffman Estates panel box hasn't been upgraded or you know it's been ten years or so since the last one, you'll likely need to have it done.
As we use more power for new electronic devices and appliances, the load can cause problems if your electrical system isn't able to keep up with the demand. So call soon for a safe home environment.
North Suburban Electric can help you with:
Electrical Repairs
Ceiling Fans
Landscape Lighting
Home Theaters
Panel Upgrades
Expert Diagnosis
Electrical Safety Inspections
Recent Articles
For a reliable Streamwood electrician, please call (847) 564-4130 for Northbrook or (847) 697-4130 for Elgin or complete our online request form.